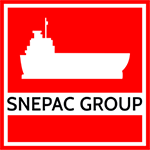 An affiliated company that has been establishing company since 2002, and a member of the shipowner Indonesia Association (INSA) Batam. The first performance as a shipping agency, in order to enhance and provide service to our customers thus we have built the sister company as Snepac shipping company to make Snepac Group a "One-Stop Service Agency". Due to the globalization era and Batam Free Trade Zone requiring strong competitive ability, it is our main concern to always focus on needs like "ONE STOP SERVICE" which provides all information and service at one place as a vessel departs from a previous port through sailing to the next destination. SPAC GROUP always maintains and keeps improving its service in achieving total customer satisfaction as an added value and service quality improvement efforts.
 Feature and Benefits with Snepac Group
Continuously Information the work order status.
Advice and suggestions for the procedure and formalities.
Minimize Cost with 24 hours service.
Supported by professional and experienced staff.
Read more...